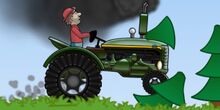 The Tractor is a vehicle in Hill Climb Racing. It is the fourth vehicle to unlock.
Description
The Tractor resembles a typical old-fashioned tractor.
Pros and cons
Pros
Cons
Has a tendency to flip over when going down steep hills
Back wheel often gets stuck
Not good on rocky terrain (e.g the Cave stage)
Trivia
The color scheme may have been inspired by John Deere Tractors.